Help Desk App for Mobile and Web
Customer service and trouble ticket management is a challenge even for small organizations. When you begin to grow that challenge multiplies customer issues can get lost in the rush of an overflowing day. A big part of the challenge is that customer service issues come from so many different sources.
Customer requests can come as phone calls, emails, web form submissions. When they arrive they are frequently incomplete, hastily thought out, frequently reported in duplicate or triplicate.
E7 Systems Help app was designed to address all of these challenges.
Our backend customer service app enables service managers to prioritize and delegate issues ensuring every issue gets the right level of attention from the staff most ready to help.
Customer Service App Features
Customer service and ticket management features include:
iOS and android apps for trouble ticket creation.
Photos, audio, and video when screen captures won't do.
Web-based management screens for efficient triage and follow-through.
Email integration for capture and follow-through.
SMS text message notifications for urgent issues.
Project management integration for time accounting.
Show your customers that you care about service.
The E7 Help app and customer service system can be privately labeled for your company and your clients.
Your Help app can be deployed either in a standalone system or integrated into your other enterprise customer service systems.
If you are looking for a high-powered, dedicated customer service solution. Contact E7 for a demonstration of our Help app.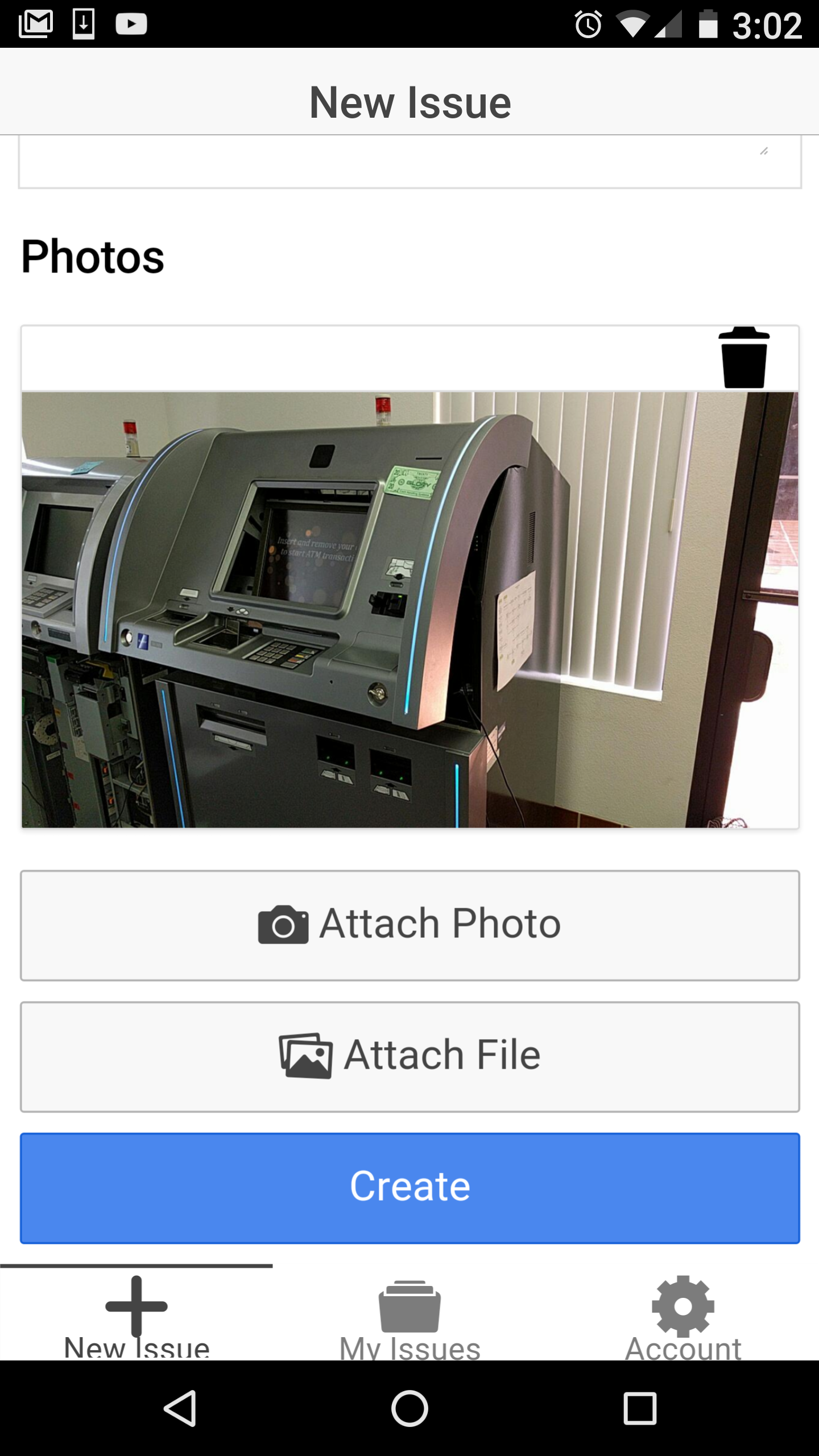 Sometimes a pasted screen shot just doesn't tell the story. E7 Systems created the E7 Help app to enable our clients to report issues with field installations of hardware like ATMs and kiosks. The built in photo attachment helps us get the big picture.
White Label Mobile Help App
Show your commitment to Customer Service. Offer your customers a mobile app that gives them a direct line to the assistance they need. Differentiate your company from competitors.
E7 Systems can rapidly deliver for you a White-Label Mobile Customer service app with your branding, posted to Play and the App store in your account. The white label customer service app and back end web app for support ticket management will deliver a dedicated database configured to your business environment and processes.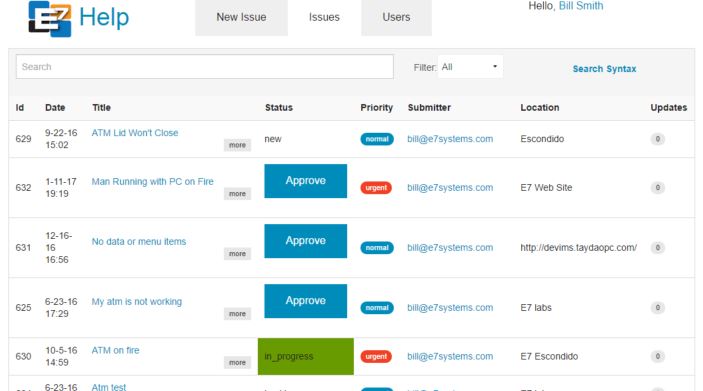 The E7 Help Web app allows the support team to Triage, Delegate and Follow Up on new issues. On receiving an urgent issue, the Help app sends text alerts to the responsible parties.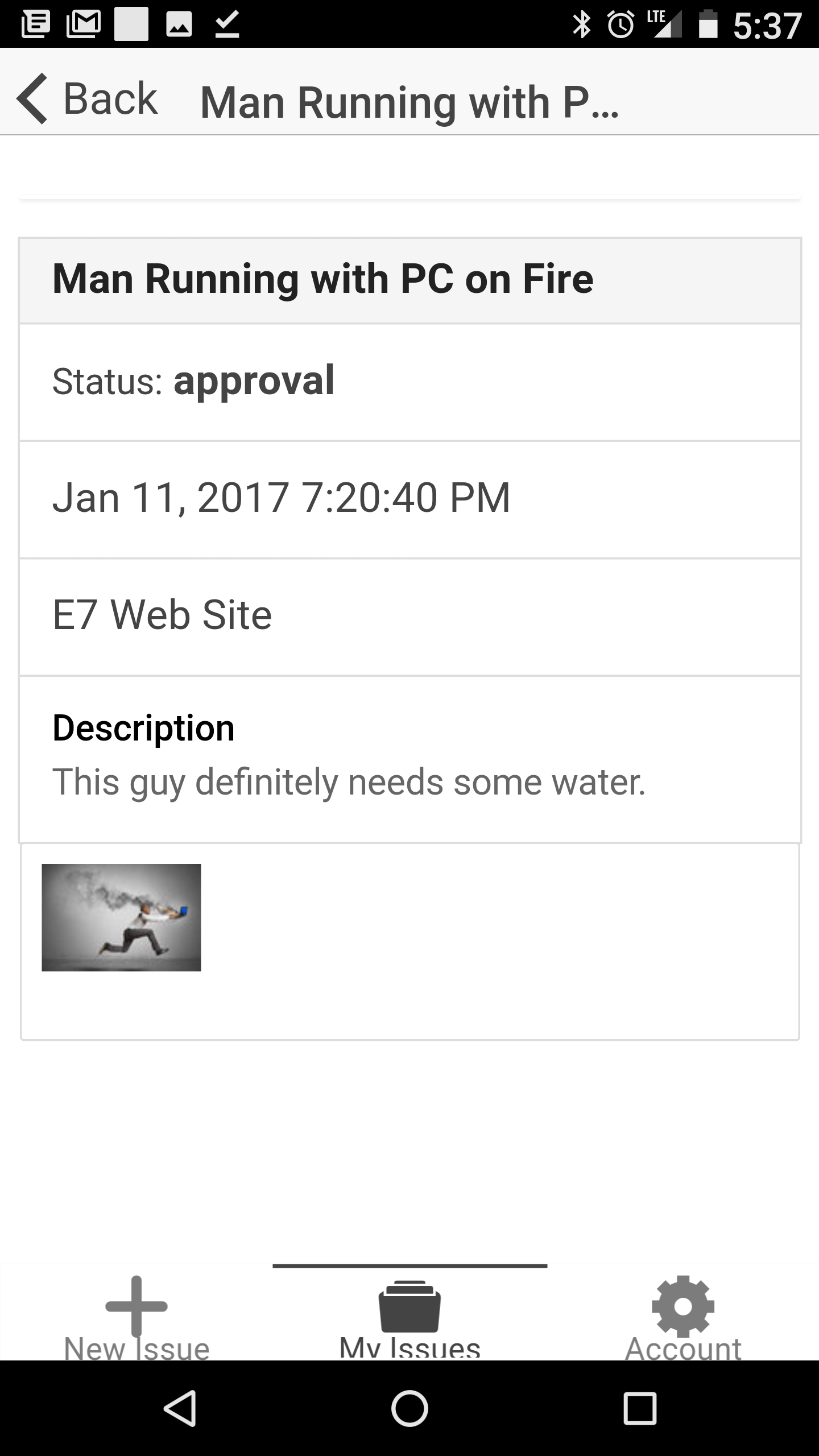 E7 Help allows users to look back at open tickets, follow the discussion, see their status and add comments.
Mobile Help App Walkthrough
Recorded entirely on a mobile device, a detailed walk-through of our mobile help app:
Create a new service issue through the mobile app.
Add photo to enhance issue description.
Access the responsive Web admin functions.
Triage new issue.
Make comments on resolution.
Assign responsible party.
Set status to "In progress"
Automatically emails interested parties.